Sometimes, no matter how hard you try, you can not quite get that green SuDS solution to provide you with enough attenuation. This could be for many reasons, some of which could include an extremely densely populated footprint, a large increase in impermeable area or maybe insufficient space.
Today is our final post in our SuDS series where we will be looking at attenuation tanks, exploring three of the most common systems, looking at the advantages and disadvantages as well as where to go if you would like to know more.
What are attenuation tanks?
When most people think of attenuation, it is probably underground tanks that come to mind as they are one of the most common forms used on sites. Their use creates below-ground void space which can temporarily store surface water generated from a development before it is discharged via either infiltration, controlled release into a sewer or reused within the project.
There are lots of different types to choose from but for this post, we will start by looking at three of the more commonly used systems:
Geocellular
Oversized Pipes
Box Culverts
Geocellular Storage System
Geocullular storage (also sometimes referred to as cellular storage) are modular plastic units that have a high void ratio and can be assembled in a variety of configurations to meet your below-ground storage requirements.
They are usually wrapped in either a geotextile or a geomembrane and can be designed and manufactured with a range of structural capacities meaning they can work anywhere from landscaped areas to lorry parks.
Figure 1: Example of Geocellular Storage System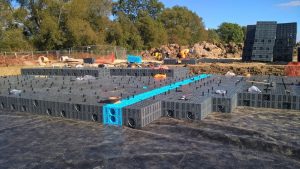 Source: https://www.wavin.com/
Oversized Pipes
Oversized pipes can be either concrete or plastic and come in a variety of shapes and sizes. As the name suggests, oversized refers to the fact that they are designed to accommodate more flow than is required for conveyance purpose, meaning that water can be temporarily stored within them before being released at a controlled rate during extreme events.
Like with Geocellular storage they can be designed to accommodate a variety of loading scenarios and they also have the advantage of meeting the necessary design standards for use under public roads.
Figure 2: Example of Concrete (left) and Plastic (right) oversized pipe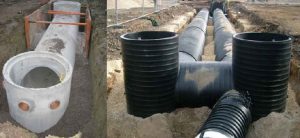 Source: SuDS Manual
Box Culverts
Box culverts are often popular as they can be manufactured in a variety of pre-cast sections and delivered to your site along with any required end walls, access shafts and preformed inlet and outlet structures which makes them easy for your contractor to install.
They tend to have an extremely long service life, can accommodate of variety of loading scenarios and are relatively easy to maintain. Like with oversized pipes they can also meet the required design standards for use under a public road.
Figure 3: Example of a box culvert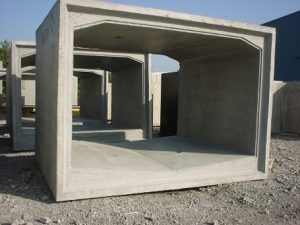 Source: https://www.cpm-group.com
What are the benefits of using attenuation tanks?
The main benefit of using an attenuation tank on your site is in relation to its storage capability. This is as a result of the high void ratio which often means that you will require a smaller system to meet your attenuation requirements when compared to other SuDS systems. This can be particularly beneficial if you have a compact, densely populated site.
They can also be used on a variety of development types where there is a requirement for subsurface drainage, although, it is important to remember that this is based on the assumption that it can operate satisfactorily in both its hydraulic capacity as well as its structural performance.
If the tank is storing water for use, it can also provide some amenity benefits, particularly if they are combined with recreational facilities at ground level.
But what about water quality and biodiversity?
Ok, so this is kind of where these systems fall short as they do not provide any opportunities for improving water quality and biodiversity on your development.
When it comes to water quality, in particular, they need to be combined with an upstream management train, which ideally should be the appropriate number of SuDS components or where this is not possible an oil-water interceptor.
Keeping all this in mind, the potential additional maintenance requirements associated with this approach should be factored into your decision.
In essence, these systems do have their place as part of a surface water strategy, however, as they are a buried system, you will lose out on some of the potential benefits that some of the greener solutions provide.
Where can I go if I want to know more
If you want to know more, a great place to start is the SuDS Manual which can be downloaded off the CIRIA website.
Other useful sources of information include:
Summary
In summary, attenuation tanks, while providing a flexible solution for some of the more tricker sites do miss out on some of the benefits provided by the greener SuDS solutions.
While they should not be discounted straight away they will likely need to be combined with other SuDS solutions to meet water quality requirements and their use could potentially make it more difficult to achieve any requirements of biodiversity net gain as part of the planning process.