A lot can happen in 365 days. To celebrate our first year in business, Founder Faye Gennard reflects on what's defined the past 12 months for Rennard Consulting ltd.
It's been an exciting, challenging and unforgettable first year for Rennard Consulting Ltd.
From starting a business in the middle of a pandemic to discovering invaluable communities of fellow professionals, we've been privileged to experience some fantastic highs alongside the inevitable lows.
In this post, I'll be reflecting back on the key milestones and moments that have defined the last year for the business.
A social media space to shout about SuDS
One of the prime directives of Rennard Consulting Ltd is to spread the word about the power and potential of SuDS.
One of the greatest challenges to encouraging uptake of SuDS is awareness. Many professionals outside of the Water industry don't know much about SuDS or its features.
We wanted to change that by sharing social media posts that highlight the whats, whys, and hows of SuDS. Using LinkedIn, we've posted 2-3 times a week to engage and grow our audience.
Figure 1: Some of Rennard Consulting's LinkedIn Posts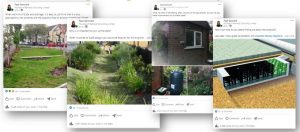 It was crucial that the content didn't alienate professionals like architects, developers, and builders. They shouldn't have to translate industry jargon and dig through tech-heavy pieces to gain insight about SuDS.
We hope to keep empowering people to get excited about SuDS, feeding valuable content back into future posts and increasing value for our followers.
Securing funding through Dyers Den
A memorable moment for Rennard Consulting Ltd occurred in the middle of 2021, when I discovered that we'd won the Dyer's Den prize.
Established to help start-up businesses hit the ground running, the prize is open to Staffordshire Moorlands-based businesses that have been operating for less than three years.
Winning the prize was an unexpected honour, especially considering that the panel was made up of a diverse roster of well-established local businesses. The prize allowed us to access much needed resources, support and guidance.
Because of this I was also able to achieve a long held personal and professional dream. In early 2021, we established an online membership space specifically for Water professionals: World of Water
World of Water launch
World of Water is a passion project that was established, in part, to answer the challenges that we face regarding water management; as an industry and as a global community.
Our relationship with water is in jeopardy. To effectively manage our relationship with water, those responsible for water's supply, treatment and disposal ought to have access to the right training, resources, materials and support from their peers.
Figure 2: World of Water Logo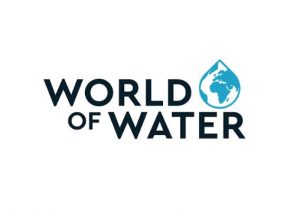 After launching in February 2021, the experimental professional space has steadily grown in membership. We recently hosted our first live event, spotlighting the power and potential of retrofitting SuDS solutions.
Presented in partnership with GreenBlue Urban, the event explored some of the challenges currently facing the drainage industry and how retrofitting could solve them.
Finding our crowd at NetworkIn
Speaking of community, we certainly found ours at NetworkIn.
After years spent as part of a larger team, setting up on my own felt equal parts thrilling and lonely. I missed the connection and support that I enjoyed in the office environment.
After joining NetworkIn and Team Stoke Friday in July 2020 it quickly became apparent that this networking space wasn't just about wringing profit from people. My networking peers uplifted both my business and me, personally.
(A huge shout out to Natalie Hewitt of Hewitt & Carr Architects, Vicky Stanaway of TukTuk Creative Marketing and NetworkIn Co-founder Sarah White, in particular, for your invaluable support!)
Figure 3: The wonderful people at Team Stoke Friday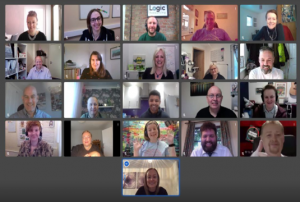 Plus, as one of my goals was to make SuDS easier to understand, there's no better litmus test than a NetworkIn meeting. When I'm able to get accountants, HR consultants and designers excited about SuDS, I know I'm doing something right!
SuDS Champion Rising Star nomination
Earlier this year I was incredibly excited to learn that I had been nominated for a SuDS Champion Rising Star Award.
Chosen by leading SuDS advocate and sustainable drainage community, Susdrain, the SuDS Champion Awards recognise those who go the extra mile to deliver and encourage the uptake of SuDS.
Figure 4: Shortlist for Rising Star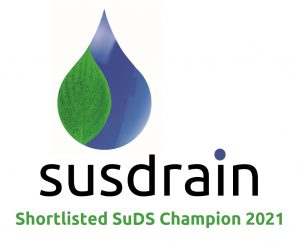 It was a true honour (and genuine surprise!) to have my burgeoning efforts in the industry acknowledged. While I didn't win, I was humbled to be nominated alongside so many dynamic new leaders across the Water industry.
It certainly reassured me that Rennard Consulting Ltd is flowing in the right direction!
Doing what counts – supporting clients!
Last but the very opposite of least, in the past 12 months Rennard Consulting Ltd has had the opportunity to support over 10 new clients.
From carrying out flood risk assessments for new developments to helping clients create innovative, cost-effective drainage strategies, we've been able to offer a wide range of water and drainage-based services.
One project that I felt especially proud to contribute to was the development of the new Renal Unit. I was brought on to consult on an as-yet undeveloped site, offering expert guidance on how to approach drainage.
The team had been previously advised that they would need a flood assessment. Upon closer inspection, however, I was able to confirm that they only needed a flood memorandum. A small difference on paper, but that insight saved them £2,500.
For us, project outcomes like this one are the true signs of success. We were able to help our client make the right decision with their drainage and save them money.
To all of our incredible clients, we want to say a huge thank you. A business is only as good as the people it supports, and so far we've been exceptionally lucky. It's been a privilege to consult and contribute to your projects.
We look forward to supporting you in the next 12 months and beyond!