When you are out and about, what kind of spaces make you happy? Perhaps it is somewhere that connects you with nature, to be able to see wildlife and experience the touch and smell of a variety of plants. Maybe it is being close to water, and being able to watch it flow, or even somewhere that lets you enjoy time with friends and family.
After three lockdowns, we are all starting to get an appreciation for how important it is to have access to good quality space, but, what if good drainage design could help us make it even better?
This week, the Rennard Consulting Blog is going to be looking at how drainage can be designed to provide amenity benefits, exploring what this means, how we can use drainage to create better urban spaces as well as highlight some of the opportunities on our sites.
So, what do we mean by Amenity?
In our previous SuDS series we looked at the four pillars, one of which was amenity, but what do we actually mean by this?
According to the CIRIA SuDS Manual, amenity can be defined as "a useful or pleasant facility or service" and can include both something tangible (i.e. something that can be measured in terms of how it is used), and less tangible (something that can be experienced).
Amenity can also cover how liveable a space is and how that space can improve the quality of life for the people that live there, both from a health and wellbeing point of view and from being somewhere that people just want to be.
We need to create better urban spaces
Over recent years, as a result of our growing population, and the expansion of our towns and cities there has been increasing focus on ensuring that we are providing good quality urban spaces. In essence, it is no longer deemed acceptable to just provide somewhere that is functional, we also need to ensure that it is liveable, improves the quality of life for its users and enhances the local community.
Figure 1: Example of Rain chain and Pond at Stafford Services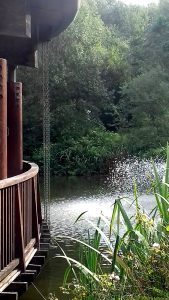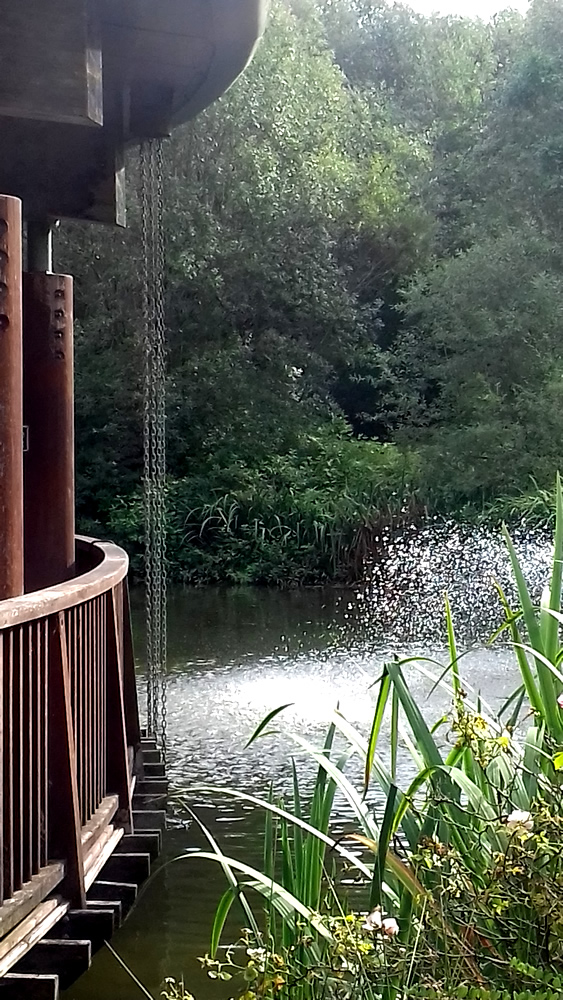 When this is combined with our love of water and the fact that all sites will require drainage it makes sense to try and ensure that the management of surface water can somehow be used to enhance our urban areas.
But how can we use drainage to improve or urban spaces?
Historically the objective of drainage design has been to get water away from a site as quickly as possible, but in recent years there has been a shift. This has been partly down to flood risk but also as we have started to see water as an asset as opposed to waste and as such have begun to look at how we can start to reap the benefits of slowing the flow through our developments.
The main way we can use drainage to improve spaces is through the use of SuDS. Whether this is retrofitting raingardens into existing highway networks, the use of localised green roofs, planters and permeable paving on individual houses or using ponds and wetlands to create attractive learning environments in schools, the possibilities are endless and no matter what the site conditions are, there will likely be a SuDS solution that you can use.
What benefits can SuDS bring?
When we consider the benefits of SuDS with relation to amenity on sites it would be easy to think that this is just restricted to making them look nice, but good design can actually be about so much more.
One potentially surprising way that SuDS can improve a development is through crime reduction, and while specific research has not yet been carried out in the UK, there is some evidence from studies in the US. Here, it was found that the inclusion of SuDS as part of developments provided increase interaction between people as well as created a better sense of community. This was particularly evident where residents had been involved in the design process where there use also helped to create a sense of ownership, with people having greater pride for where they live.
SuDS have also been used to regenerate areas and promote economic growth by encouraging new businesses to invest, with a great example of this being the Sheffield Grey to Green project. At the time this was the UK's largest retro-fit SuDS project and transformed a once run-down area of the city which people were simply travelling through to one that they could stop and enjoy. A study carried out by the University of Sheffield post-construction showed that up to 20% of people changed their route to work to go through the Grey to Green area and it was estimated that the scheme would generate around 1800 jobs (https://uk.thegreencity.eu/best_practices/grey-to-green-sheffield-phase-1/).
Figure 2: Sheffield Grey to Green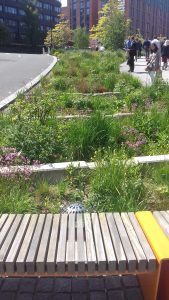 It is well known that time outdoors and an active lifestyle can have a positive impact on our Health and Wellbeing, but what often discourages us is not having somewhere enjoyable to go. Therefore, using SuDS to help create better quality spaces, whether it be just a small pocket park, such as the one in Derbyshire Street London, or a more substantial pond draining the surface water from a supermarket carpark, like at Sainsbury's in Leek can help provide better quality spaces for everyone to enjoy.
Finally, one of my favourite unsung benefits of using SuDS is in the education section. As classroom sizes continue to grow and we start to emerge from a post-pandemic world there is a real opportunity to use SuDS to create outdoor learning space with the added benefit of teaching kids about where the water goes.
Summary
No matter where your site is or what type of development you are working on, it is going to require some form of surface water drainage and while it can be tempting to just go for a traditional piped solution, you could be missing a trick by not thinking about how your drainage could improve the quality of your site.
The use of SuDS can bring a variety of amenity benefits, creating spaces where people want to live and work and we should therefore ensure that we are always looking at ways in which we can create space for water.