One of the biggest challenges on any construction project is always the budget and when you're proposing drainage designs that feel like they buck the tried and tested trends, cost can become a serious barrier to progress … but what if you could get help with footing the bill?
Well, if you or your organisation are looking to create sustainable drainage and/or flood risk solutions, then there could be an opportunity to get some funding to support your projects.
Securing funding can alleviate the financial strain during the costly development stages, allow you to expand your project scope, as well as boost your profile.
This week, the Rennard Consulting Blog is going to be looking at some of the guidance and resources available around funding and focusing on:
what you need for the application process
how to find relevant funds
strategies for how to apply
and highlighting just some of funding opportunities that are currently out there.
Some top tips on finding and applying for funding
There are basically two essential areas of information which it is good to get an understanding of if you are looking to apply for funding. These are:
desirable, achievable, precise objectives and predicted outcomes
detailed and accurate costings.
To help with this there is a great guide which has been put together by the Environment Agency (EA) that is aimed at catchment partnerships. It provides an overview of how you can seek, apply for and secure funding and while we recommend a more in- depth look, we have picked out four key strategies that we think can be applicable to any funding application.
Demonstrate how you are an organisation that funders can trust
It may seem obvious but being able to show you're a trustworthy 'safe bet' can significantly improve your chances of securing funding.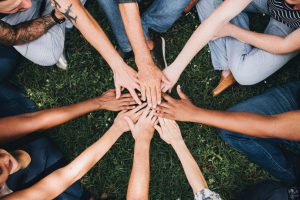 This could involve showing that you can manage funds correctly, building relationships with other organisations, or connecting with relevant authorities to build your network
To help with this, when thinking about your search for funding try to understand what your funders need. In particular this could look at things such as identifying your potential funder's 'pain points' (e.g. coastal erosion) and demonstrating how your project directly addresses or solves them.
In essence, it is important to remember that while your funding application process is a chance to explain how your drainage solution works, it's can be more important in this instance to highlight how it helps to solve a problem.
Explore funding options both nationally and closer to home
There are actually a lot of different funds out there, so its good to think about who you apply to and how you can link your project to their fund.
A great place to start is always in your local area; with the EA reporting that £13 billion is spent each year in England on catchment-related activities alone, therefore, review your localised opportunities and identify if you can access funding from:
water companies
local businesses, growth programmes, and authorities
flood risk authorities
public health and social care organisations
research grants
grant-giving charities.
In addition, alongside local funds, there are also a number of high-profile national funds which you can apply for and to get you started we have included some of these later in this article.
Think outside the box about the benefits your project can bring
It can be easy to think that the sole benefit of drainage and water related projects is to meet environmental concerns, however, there are many more opportunities a good water project can bring.
For example, instead of just demonstrating how your project will help the environment, you could also highlight the other benefits it could bring such as its ability to:
save money
create new jobs and skills
support sustainable economic growth
reduce carbon and resource use
offer good publicity and build a positive reputation.
By demonstrating all the benefits and seeking out funders that have similar goals and aims, you can create more of a collaboration where you meet both of your needs.
Finally, think big and try to identify how your project can contribute to any local agendas
It's always good to have an understanding of any local agendas and a clear vision of how your project could help.
Think about how your project demonstrates a scope for growth or how it could lead to a future project. Also look for ways it could potentially contribute to any major areas of regeneration, infrastructure development and urban growth.
Some funding opportunities that are available right now
So, you have a project, and you have thought about how you want to structure your application … but who can you apply to?
Well, to get you started, we've included some of the more well-known and accessible funding opportunities for drainage and flood risk projects. However, there are lots more out there, so make sure you have a good look around to find which one is the best for you and your project.
The Flood and Coastal Erosion Risk Management (FCERM) and Grant-in-Aid (GiA) partnership funding
The FCERM is one of the bigger funding mechanisms and looks for projects that will provide a strategy that seeks to better manage the risks and consequences of flooding from bodies of water like the sea, rivers, groundwater and reservoirs, and also surface water, sewers, and coastal erosion.
If your scheme relates to drainage and/or flood risk and you can prove that the benefits are or will be greater than the costs, then it should qualify for a contribution from the FCERM GiA. This partnership funding approach allows central government to contribute to a range of flood schemes, rather than meeting the full costs of only a limited number.
Anyone who is carrying out or benefitting from an FCERM project could be eligible for funding, from local councils to big developers. However, the fund does not cover projects under £5,000 or anything related to maintenance. You can check out whether your project might be eligible using this partnership funding calculator.
Welsh Natural Flood Management Fund
If you are based in Wales this could be a fantastic option as in an effort to encourage risk management authorities to pursue NFM interventions, the Welsh Government has made £1 million of funding available.
This fund is available until March 2022 and limited to Welsh projects only.
Severn Trent Community Fund
Severn Trent (ST) has pledged to give away more than £10 million over the next five years, funding projects in the regions that Severn Trent supplies.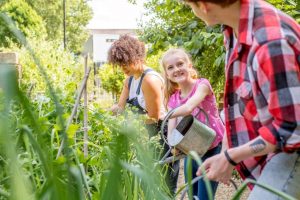 Funding is subject to the approval of a Community Fund Panel made up of ST customers, who select from a shortlist of projects that focus on community well-being. Sustainable drainage and NFM projects would certainly fit the bill, so do apply if you believe you're eligible.
The Lottery Community Fund
Distributing over £600 million a year to communities across the UK, the Lottery Community Fund (LCF) has been known to fund sustainable drainage and flood risk projects.
From a new wetland environment in Cheshire to community acquisition of moorland in the Scottish Borders to support flood prevention via sustainable drainage, the LCF may be worth applying for depending on your project.
Crowdfunding
With the rise of online fundraising platforms like JustGiving, Crowdfunder, GoFundMe, Raisely, and Wonderful to name a few, it's never been easier for people to support worthy projects.
As long as funds are raised legally and ethically, there's no reason communities or other groups can't reach out to people to fundraise. If your project is sustainable and will benefit the environment or your local community, why not ask for support?
Funding for drainage and flood risk projects is out there
If you've never considered applying for or accessing funding before, the process can seem complex and even off-putting. Some project leaders or organisations may even consider themselves undeserving of funding, because they don't operate as a non-profit.
However, if the outcome of your project provides even the slightest positive effect for the environment and/or the people living in its vicinity, you may be able to apply for and secure funding.
There are so many funding bodies out there who want to help your project succeed, with resources just waiting to be tapped into, so don't let cost stop your project getting off the ground.
If you have any questions or thoughts about seeking funding, why not get in touch? And be sure to connect with us on LinkedIn as we regularly add content and information which could be of benefit to you and your projects.
References